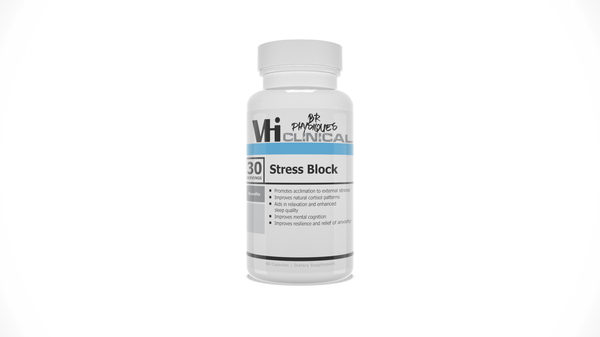 Stress Block increases your resilience to the effects of everyday stress while improving sleep quality and duration.
Benefits:
Improves natural cortisol pattern*

Promotes acclimation to external stress

Improves resilience and relief of anxiety*

Aids in relaxation and enhanced sleep quality*

Improves Mental Cognition*
Stress Block aids your body to resist and recover from the effects of everyday stress. This multidimensional formula includes KSM-66 (Ashwagandha), Cordyceps, Phosphatidyl Serine, Maral Root Extract along with other ingredients all clinically dosed to give your body it's greatest advantage over daily stress.
Components of this multifunctional formula have been shown to support healthy cortisol patterns, promote mental cognition, aid in reducing occasional fatigue, improve relaxation and promote restful sleep.*