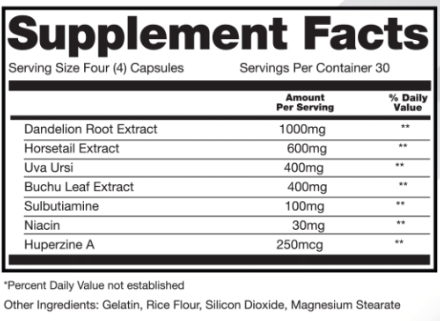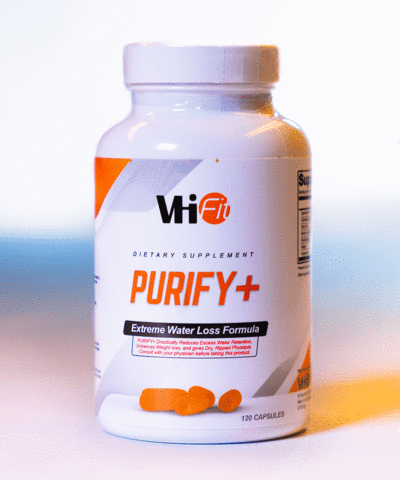 Purify + - Feeling bloated can happen when you're dieting and exercising regularly. Purify+ water shedding formula features dandelion root extract, an ingredient clinically shown to improve bloating and water retention. A unique blend of ingredients designed to reveal a drier, leaner and more vascular physique by removing excess water trapped underneath the skin. 
Dandelion root extract - aids in weight loss in many ways - acts as a diuretic which leads to weight loss and helps stimulate appetite -  aids in the treatment of many ailments, including acne, eczema, high cholesterol, heartburn, gastrointestinal disorders, diabetes, and even cancer - 
Horsetail extract - a plant mainly used for fluid retention, kidney and bladder stones - horsetail contains chemicals that work like "water pills" (diuretics) and increase urine output - 
Uva Ursi - an herbal extract used as a natural remedy for urinary tract infections. It's made from the leaves of the bearberry bush. Some of the compounds in the leaves have anti-inflammatory and antibacterial properties.
Buchu leaf - a plant used to disinfect the urinary tract during infections of the bladder, prostate or kidney - kills germs and promotes urine flow - treats sexually transmitted diseases - 
Sulbutiamine - a powerful nootropic - supports central nervous system, muscular and digestive system - plays a role on flow of electrolytes in our body - a synthetic form of thiamine (b-1 vitamin) 
Niacin - vitamin b3 -  required for the proper function of fats and sugars in the body and to maintain healthy cells - It also improves levels of triglycerides in the blood - 
Huperzine A - a substance extracted from a plant - mainly used for memory function - Improves neurotransmitters in the brain - enhances learning and memory -
boost energy, increase alertness, fights depression -