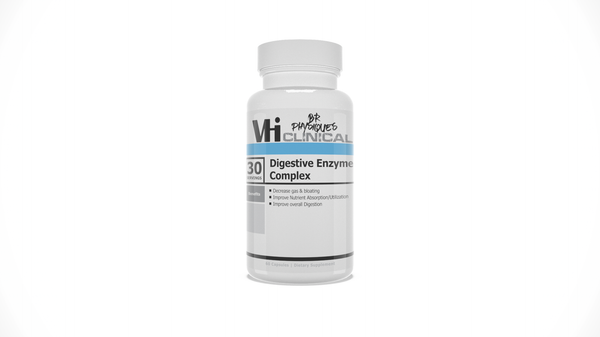 VHi Digestive Enzyme complex, when it comes to 90% of your results, no matter your goal, come from the nutrition you take in on a daily basis. At VHI we would argue that it's not just about the nutrition you take in but the absorption and utilization of that nutrition.

To properly utilize and absorb this nutrition your body must break down the food you intake into micro and macronutrients for absorption.

Digestive Enzyme Complex by VHI clinical has an incredible and diverse blend of digestive enzymes to help break down and absorb the nutrients from your food. What sets this digestive enzyme complex apart from the rest is the addition of ginger root and gentian extract which have been shown to ease digestion, bloating and heartburn. These two ingredients added to a full spectrum of digestive enzymes including natural enzymes (Bromeliad and Papain) makes this a truly clinical grade digestive enzyme complex.

The benefits of improving digestion and increasing nutrient absorption with a digestive enzyme supplement will help you look, perform and feel your best!
*These statements have not been evaluated by The Food and Drug Administration. This product is not intended to diagnose, treat, cure, or prevent any disease.